About Us
Riccardo`s Pizzeria is a Kebabs takeaway in Blackpool. Why don't you try our Kofta Kebab or Sicilian?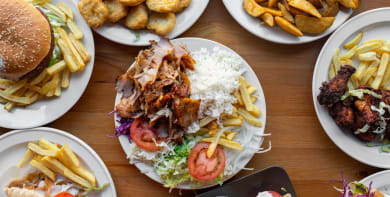 Reviews
206 reviews
Dizz
"Disappointed. The pizza was good but everything else was awful. The garlic bread was undercooked & tasted awful, the potato wedges were overcooked & far too salty. The chips were ok."
07/08/2020
Jayne
"Fabulous hot food of good quality. Generous portions and speedy delivery. 5 stars."
29/07/2020
VICKY
"First time order from here and I must say I'm impressed. The foid was hot fresh and tasted fantastic. The delivery driver was cutious and friendly. Really really pleased. Will be ordering again"
21/07/2020
Michelle
"Lovely food, polite delivery driver. Definitely recommended."
19/07/2020
Menu
English Burger Large
With ketchup & salad
£4.90
English Burger Small
With ketchup & salad
£3.80
Greek Burger Large
BBQ sauce
£4.90
Greek Burger Small
BBQ sauce
£3.80
French Burger Large
With mayo & salad
£4.90
French Burger Small
With mayo & salad
£3.80
Italian Garlic Burger Large
With sauce & salad
£4.90
Italian Garlic Burger Small
With sauce & salad
£3.80
King Kong Burger - Large
3 Cheeseburgers, mushrooms & fried onions
£6.50
Hawaiian Burger Large
With pineapple, thousand island & salad
£4.90
Hawaiian Burger Small
With pineapple, thousand island & salad
£3.80
American Burger Large
With relish & salad
£4.90
American Burger Small
With relish & salad
£3.80
Mega Burger - Large
Beef burger, chicken burger, donner, topped with double cheese
£6.50
Mexicano Burger Large
With chilli sauce & salad
£4.90
Mexicano Burger Small
With chilli sauce & salad
£3.80
Special Burger - Large
2 Cheeseburgers, 2 onion rings & fried onions
£5.80
Seafood 09" Medium
Tuna & prawns
£5.70
Seafood 12" Large
Tuna & prawns
£8.30
Seafood 14" X-Large
Tuna & prawns
£10.10
Seafood 16" XX-Large
Tuna & prawns
£11.70
Sicilian 09" Medium
Mexican chicken, pepperoni, spicy beef & jalapeno
£6.20
Sicilian 12" Large
Mexican chicken, pepperoni, spicy beef & jalapeno
£8.70
Sicilian 16" XX-Large
Mexican chicken, pepperoni, spicy beef & jalapeno
£13.10
Sicilian 14" X-Large
Mexican chicken, pepperoni, spicy beef & jalapeno
£10.80
Vegetariana 09" Medium
Mushroom, peppers, onions, pineapple & sweetcorn
£6.20
Vegetariana 12" Large
Mushroom, peppers, onions, pineapple & sweetcorn
£8.70
Vegetariana 14" X-Large
Mushroom, peppers, onions, pineapple & sweetcorn
£10.80
Vegetariana 16" XX-Large
Mushroom, peppers, onions, pineapple & sweetcorn
£13.10
MG Special 09" Medium
Spicy beef & spicy chicken
£5.70
MG Special 12" Large
Spicy beef & spicy chicken
£8.30
MG Special 14" X-Large
Spicy beef & spicy chicken
£10.10
MG Special 16" XX-Large
Spicy beef & spicy chicken
£11.70
Milano 09" Medium
Ham & mushroom
£5.70
Milano 12" Large
Ham & mushroom
£8.30
Milano 14" X-Large
Ham & mushroom
£10.10
Milano 16" XX-Large
Ham & mushroom
£11.70
Mexicano 09" Medium
Spicy beef, onion, peppers & jalapeno
£6.20
Mexicano 12" Large
Spicy beef, onion, peppers & jalapeno
£8.70
Mexicano 14" X-Large
Spicy beef, onion, peppers & jalapeno
£10.80
Mexicano 16" XX-Large
Spicy beef, onion, peppers & jalapeno
£13.10
Riccardo's Special 09" Medium
Bit of everything
£7.30
Riccardo's Special 12" Large
Bit of everything
£9.90
Riccardo's Special 14" X-Large
Bit of everything
£12.40
Riccardo's Special 16" XX-Large
Bit of everything
£14.50
Piccante 09" Medium
Salami, mushrooms & onions
£6.00
Piccante 12" Large
Salami, mushrooms & onions
£8.50
Piccante 14" X-Large
Salami, mushrooms & onions
£10.30
Piccante 16" XX-Large
Salami, mushrooms & onions
£12.00
Pollo Marinato 09" Medium
Ham, mushroom & pepperoni
£6.00
Pollo Marinato 12" Large
Ham, mushroom & pepperoni
£8.50
Pollo Marinato 14" X-Large
Ham, mushroom & pepperoni
£10.30
Pollo Marinato 16" XX-Large
Ham, mushroom & pepperoni
£12.00
Ancona 09" Medium
Tuna, onion & jalapeno
£6.00
Ancona 12" Large
Tuna, onion & jalapeno
£8.50
Ancona 14" X-Large
Tuna, onion & jalapeno
£10.30
Ancona 16" XX-Large
Tuna, onion & jalapeno
£12.00
Atlantic 09" Medium
Prawns, peppers & pineapple
£6.00
Atlantic 12" Large
Prawns, peppers & pineapple
£8.50
Atlantic 14" X-Large
Prawns, peppers & pineapple
£10.30
Atlantic 16" XX-Large
Prawns, peppers & pineapple
£12.00
BBQ Pizza 09" Medium
Pepperoni, ham & chicken
£6.00
BBQ Pizza 12" Large
Pepperoni, ham & chicken
£8.50
BBQ Pizza 14" X-Large
Pepperoni, ham & chicken
£10.30
BBQ Pizza 16" XX-Large
Pepperoni, ham & chicken
£12.00
Capriccio 09" Medium
Double pepperoni
£5.70
Capriccio 12" Large
Double pepperoni
£8.30
Capriccio 14" X-Large
Double pepperoni
£10.10
Capriccio 16" XX-Large
Double pepperoni
£11.70
Carribean 09" Medium
Chicken, pineapple, mushroom & sweetcorn
£6.20
Carribean 12" Large
Chicken, pineapple, mushroom & sweetcorn
£8.70
Carribean 14" X-Large
Chicken, pineapple, mushroom & sweetcorn
£10.80
Carribean 16" XX-Large
Chicken, pineapple, mushroom & sweetcorn
£13.10
Chefs Special 09" Medium
Donner meat, onion & mushroom
£6.00
Chefs Special 12" Large
Donner meat, onion & mushroom
£8.50
Chefs Special 14" X-Large
Donner meat, onion & mushroom
£10.30
Chefs Special 16" XX-Large
Donner meat, onion & mushroom
£12.00
Diavola 09" Medium
Pepperoni & mushrooms
£5.70
Diavola 12" Large
Pepperoni & mushrooms
£8.30
Diavola 14" X-Large
Pepperoni & mushrooms
£10.10
Diavola 16" XX-Large
Pepperoni & mushrooms
£11.70
Meaty Lovers 09" Medium
Pepperoni, salami, Mexican chicken & ham
£6.20
Meaty Lovers 12" Large
Pepperoni, salami, Mexican chicken & ham
£8.70
Meaty Lovers 14" X-Large
Pepperoni, salami, Mexican chicken & ham
£10.80
Meaty Lovers 16" XX-Large
Pepperoni, salami, Mexican chicken & ham
£13.10
Klof 16" XX-Large
Prawn, tuna & sweetcorn
£12.00
Klof 09" Medium
Prawn, tuna & sweetcorn
£6.00
Klof 12" Large
Prawn, tuna & sweetcorn
£8.50
Klof 14" X-Large
Prawn, tuna & sweetcorn
£10.30
Margherita 09" Medium
Cheese & tomato
£4.60
Margherita 12" Large
Cheese & tomato
£5.50
Margherita 14" X-Large
Cheese & tomato
£7.70
Margherita 16" XX-Large
Cheese & tomato
£9.30
Marinara 09" Medium
Chicken & sweetcorn
£5.70
Marinara 12" Large
Chicken & sweetcorn
£8.30
Marinara 14" X-Large
Chicken & sweetcorn
£10.10
Marinara 16" XX-Large
Chicken & sweetcorn
£11.70
Hawaiian 09" Medium
Ham & pineapple
£5.70
Hawaiian 12" Large
Ham & pineapple
£8.30
Hawaiian 14" X-Large
Ham & pineapple
£10.10
Hawaiian 16" XX-Large
Ham & pineapple
£11.70
Hot & Spicy 09" Medium
Pepperoni, beef, onion & jalapeno
£6.20
Hot & Spicy 12" Large
Pepperoni, beef, onion & jalapeno
£8.70
Hot & Spicy 14" X-Large
Pepperoni, beef, onion & jalapeno
£10.80
Hot & Spicy 16" XX-Large
Pepperoni, beef, onion & jalapeno
£13.10
Kofta Kebab Large
Minced lamb prepared on skewer
£7.50
Kofta Kebab Small
Minced lamb prepared on skewer
£5.20
Chicken, Lamb & Donner Mixed Kebab - Large
£10.50
Donner Kebab Large
Donner meat
£6.60
Donner Kebab Small
Donner meat
£5.00
Donner Meat & Chips Large
£6.40
Donner Meat & Chips Small
£5.00
Donner Meat in a Bun - Small
£3.80
Chicken Kebab Large
Marinated chicken breast pieces
£8.20
Chicken Kebab Small
Marinated chicken breast pieces
£5.40
Riccardo's Special Kebab - Large
Donner, lamb, chicken & kofta
£12.50
Lamb Kebab Large
Lamb pieces marinated with special herbs
£8.30
Lamb Kebab Small
Lamb pieces marinated with special herbs
£5.50
Mixed Kebab - Large
Any 2 small mixed kebabs in naan
£8.50
1st Pizza Topping Green Pepper
1st Pizza Topping Jalapeno
1st Pizza Topping Mushroom
1st Pizza Topping Pepperoni
1st Pizza Topping Pineapple
1st Pizza Topping Spicy Beef
1st Pizza Topping Spicy Chicken
1st Pizza Topping Sweetcorn
2nd Pizza Topping Green Pepper
2nd Pizza Topping Jalapeno
2nd Pizza Topping Mushroom
2nd Pizza Topping Pepperoni
2nd Pizza Topping Pineapple
2nd Pizza Topping Spicy Beef
2nd Pizza Topping Spicy Chicken
2nd Pizza Topping Sweetcorn
Chicken Burger - Quarter Pounder
Cheeseburger - Quarter Pounder
Haagen-Dazs (Salted Caramel) - 460ml
£5.80
Haagen-Dazs (Strawberry Cheesecake) - 460ml
£5.80
Haagen-Dazs (Vanilla) - 460ml
£5.80
Chicken with Chips 01 Piece
£2.80
Chicken with Chips 02 Pieces
£4.80
Chicken with Chips 03 Pieces
£6.10
Chicken with Chips 04 Pieces
£7.60
4 Chicken Strips with Chips
£6.00
Family Bucket
4 pieces of fried chicken, 6 chicken strips, 2 chips & bottle pepsi
£13.70
Chicken Nuggets, Chips & Salad
£3.90
Garlic Mushroom, Chicken & Cheese
£4.90
Scampi (8), Chips & Salad
£3.90
4 Meat Samosas with Salad
£4.00
Garlic Bread 16" XX-Large
£6.30
Garlic Bread with Cheese 09" Medium
£4.30
Garlic Bread with Cheese 12" Large
£6.20
Garlic Bread with Cheese 14" X-Large
£7.30
Garlic Bread with Cheese 16" XX-Large
£9.40
Garlic Bread with Cheese & Donner Meat 09" Medium
£5.30
Garlic Bread with Cheese & Donner Meat 12" Large
£7.40
Garlic Bread with Cheese & Donner Meat 14" X-Large
£8.50
Garlic Bread with Cheese & Donner Meat 16" XX-Large
£11.00
Garlic Bread with Cheese & Mushrooms 09" Medium
£4.70
Garlic Bread with Cheese & Mushrooms 12" Large
£6.80
Garlic Bread with Cheese & Mushrooms 14" X-Large
£7.90
Garlic Bread with Cheese & Mushrooms 16" XX-Large
£9.90
Garlic Bread with Cheese & Pepperoni 09" Medium
£5.00
Garlic Bread with Cheese & Pepperoni 12" Large
£7.00
Garlic Bread with Cheese & Pepperoni 14" X-Large
£8.00
Garlic Bread with Cheese & Pepperoni 16" XX-Large
£10.10
Garlic Bread with Cheese & Tomato 09" Medium
£4.70
Garlic Bread with Cheese & Tomato 12" Large
£6.80
Garlic Bread with Cheese & Tomato 14" X-Large
£7.90
Garlic Bread with Cheese & Tomato 16" XX-Large
£9.90
Kids Meal 1
7" Margherita pizza, 4 chicken nuggets, kids fries, 2 carton drinks & 2 lollipops
£7.00
Kids Meal 2
Small donner meat box, kids fries, carton drink & lollipop
£4.80
Kids Meal 3
4 Chicken nuggets, kids fries, carton drink & lollipop
£3.50
Marinara Calzone - 12" Large
Chicken & sweetcorn
£7.80
Meat Feast Calzone - 12" Large
Chicken, pepperoni, ham, salami & beef
£8.80
Hawaiian Calzone - 12" Large
Ham & pineapple
£7.80
Diavola Calzone - 12" Large
Pepperoni & mushrooms
£7.80
Donner Calzone - 12" Large
Donner meat
£7.80
BBQ Calzone - 12" Large
BBQ sauce, chicken & pepperoni
£7.80
Meal Deal 9
2 x 12" pizza with 3 toppings, 12" garlic bread with cheese, 2 x chips & bottle of Pepsi
£20.50
Meal Deal 1
2 x Quarter pounder cheeseburger, 9" garlic bread with cheese, 2 x chips & 2 x cans
£13.00
Meal Deal 10
Small lamb kebab, small chicken kebab, small donner kebab, 12" pizza, 2 x chips, 9" margherita & bottle of Pepsi
£24.50
Meal Deal 2
2 x Small donner kebabs, 2 x chips & 2 x cans
£13.00
Meal Deal 3
Small donner, small chicken kebab, quarter pounder burger, onion rings, chips & 9" margherita
£15.50
Meal Deal 4
4 Pieces chicken & chips, quarter pounder chicken burger, 6 nuggets & chips, onion rings, 9" garlic bread with cheese & bottle of Pepsi
£16.20
Meal Deal 5
Quarter pounder cheeseburger, quarter pounder chicken burger, chips, chicken nuggets & chips, salad, 10 onion rings, 9" garlic bread with cheese & bottle of Pepsi
£15.50
Meal Deal 6
Small donner, small chicken kebab, quarter pounder burger, onion rings, 2 chips & 9" margherita pizza
£18.00
Meal Deal 7
Lamb shish kebab, chicken shish kebab, small donner, 2 chips, 9" margherita pizza & bottle of Pepsi
£19.70
Meal Deal 8
16" pizza with 4 toppings, small donner, 2 x chips, quarter pounder cheeseburger, 9" margherita & bottle of Pepsi
£21.00
Tub of Sauce Sweet Chilli
£0.60
Contact Us
Find Us
99-101 Squires Gate Lane, Blackpool, FY41QW
We deliver to
FY1, FY4, FY8