About Us
Riccardo`s Pizzeria is a Kebabs takeaway in Blackpool. Why don't you try our Kofta Kebab or Sicilian?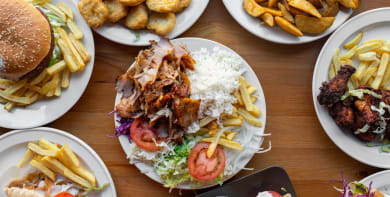 Reviews
158 reviews
Marc
"Nice fresh kebab delivered early will definitely order again"
17/04/2021
Martin
"Great service and excellent food"
16/04/2021
Jeff
"Not mozzarella cheese uses"
11/04/2021
John
"Very nice will definitely use again"
05/04/2021
Menu
Riccardos Munchy Box
Grilled Chicken and Lamb, Donner Meat, Small Chicken Burger, Chips, 5 Chicken Nuggets, 5 Onion Rings, 2 Tubs of Sauces and Salad.
£22.00
Meal Deal 1
2 x Quarter pounder cheeseburger, 9" garlic bread with cheese, 2 x chips & 2 x cans
£13.00
Meal Deal 2
2 x Small donner kebabs, 2 x chips & 2 x cans
£13.00
Meal Deal 3
Small donner, small chicken kebab, quarter pounder burger, onion rings, chips & 9" margherita
£15.50
Meal Deal 4
4 Pieces chicken & chips, quarter pounder chicken burger, 6 nuggets & chips, onion rings, 9" garlic bread with cheese & bottle of Pepsi
£16.20
Meal Deal 5
Quarter pounder cheeseburger, quarter pounder chicken burger, chips, chicken nuggets & chips, salad, 10 onion rings, 9" garlic bread with cheese & bottle of Pepsi
£15.50
Meal Deal 6
Small donner, small chicken kebab, quarter pounder burger, onion rings, 2 chips & 9" margherita pizza
£18.00
Meal Deal 7
Lamb shish kebab, chicken shish kebab, small donner, 2 chips, 9" margherita pizza & bottle of Pepsi
£19.70
Meal Deal 8
16" pizza with 4 toppings, small donner, 2 x chips, quarter pounder cheeseburger, 9" margherita & bottle of Pepsi
£21.00
Meal Deal 9
2 x 12" pizza with 3 toppings, 12" garlic bread with cheese, 2 x chips & bottle of Pepsi
£20.50
Meal Deal 10
Small lamb kebab, small chicken kebab, small donner kebab, 12" pizza, 2 x chips, 9" margherita & bottle of Pepsi
£24.50
Margherita 09" Medium
Cheese & tomato
£4.60
Margherita 12" Large
Cheese & tomato
£5.50
Margherita 14" X-Large
Cheese & tomato
£7.70
Margherita 16" XX-Large
Cheese & tomato
£9.30
Milano 09" Medium
Ham & mushroom
£5.70
Milano 12" Large
Ham & mushroom
£8.30
Milano 14" X-Large
Ham & mushroom
£10.10
Milano 16" XX-Large
Ham & mushroom
£11.70
Hawaiian 09" Medium
Ham & pineapple
£5.70
Hawaiian 12" Large
Ham & pineapple
£8.30
Hawaiian 14" X-Large
Ham & pineapple
£10.10
Hawaiian 16" XX-Large
Ham & pineapple
£11.70
Diavola 09" Medium
Pepperoni & mushrooms
£5.70
Diavola 12" Large
Pepperoni & mushrooms
£8.30
Diavola 14" X-Large
Pepperoni & mushrooms
£10.10
Diavola 16" XX-Large
Pepperoni & mushrooms
£11.70
Capriccio 09" Medium
Double pepperoni
£5.70
Capriccio 12" Large
Double pepperoni
£8.30
Capriccio 14" X-Large
Double pepperoni
£10.10
Capriccio 16" XX-Large
Double pepperoni
£11.70
Marinara 09" Medium
Chicken & sweetcorn
£5.70
Marinara 12" Large
Chicken & sweetcorn
£8.30
Marinara 14" X-Large
Chicken & sweetcorn
£10.10
Marinara 16" XX-Large
Chicken & sweetcorn
£11.70
MG Special 09" Medium
Spicy beef & spicy chicken
£5.70
MG Special 12" Large
Spicy beef & spicy chicken
£8.30
MG Special 14" X-Large
Spicy beef & spicy chicken
£10.10
MG Special 16" XX-Large
Spicy beef & spicy chicken
£11.70
Seafood 09" Medium
Tuna & prawns
£5.70
Seafood 12" Large
Tuna & prawns
£8.30
Seafood 14" X-Large
Tuna & prawns
£10.10
Seafood 16" XX-Large
Tuna & prawns
£11.70
Klof 09" Medium
Prawn, tuna & sweetcorn
£6.00
Klof 12" Large
Prawn, tuna & sweetcorn
£8.50
Klof 14" X-Large
Prawn, tuna & sweetcorn
£10.30
Klof 16" XX-Large
Prawn, tuna & sweetcorn
£12.00
Piccante 09" Medium
Salami, mushrooms & onions
£6.00
Piccante 12" Large
Salami, mushrooms & onions
£8.50
Piccante 14" X-Large
Salami, mushrooms & onions
£10.30
Piccante 16" XX-Large
Salami, mushrooms & onions
£12.00
Pollo Marinato 09" Medium
Ham, mushroom & pepperoni
£6.00
Pollo Marinato 12" Large
Ham, mushroom & pepperoni
£8.50
Pollo Marinato 14" X-Large
Ham, mushroom & pepperoni
£10.30
Pollo Marinato 16" XX-Large
Ham, mushroom & pepperoni
£12.00
BBQ Pizza 09" Medium
Pepperoni, ham & chicken
£6.00
BBQ Pizza 12" Large
Pepperoni, ham & chicken
£8.50
BBQ Pizza 14" X-Large
Pepperoni, ham & chicken
£10.30
BBQ Pizza 16" XX-Large
Pepperoni, ham & chicken
£12.00
Chefs Special 09" Medium
Donner meat, onion & mushroom
£6.00
Chefs Special 12" Large
Donner meat, onion & mushroom
£8.50
Chefs Special 14" X-Large
Donner meat, onion & mushroom
£10.30
Chefs Special 16" XX-Large
Donner meat, onion & mushroom
£12.00
Atlantic 09" Medium
Prawns, peppers & pineapple
£6.00
Atlantic 12" Large
Prawns, peppers & pineapple
£8.50
Atlantic 14" X-Large
Prawns, peppers & pineapple
£10.30
Atlantic 16" XX-Large
Prawns, peppers & pineapple
£12.00
Ancona 09" Medium
Tuna, onion & jalapeno
£6.00
Ancona 12" Large
Tuna, onion & jalapeno
£8.50
Ancona 14" X-Large
Tuna, onion & jalapeno
£10.30
Ancona 16" XX-Large
Tuna, onion & jalapeno
£12.00
Hot & Spicy 09" Medium
Pepperoni, beef, onion & jalapeno
£6.20
Hot & Spicy 12" Large
Pepperoni, beef, onion & jalapeno
£8.70
Hot & Spicy 14" X-Large
Pepperoni, beef, onion & jalapeno
£10.80
Hot & Spicy 16" XX-Large
Pepperoni, beef, onion & jalapeno
£13.10
Mexicano 09" Medium
Spicy beef, onion, peppers & jalapeno
£6.20
Mexicano 12" Large
Spicy beef, onion, peppers & jalapeno
£8.70
Mexicano 14" X-Large
Spicy beef, onion, peppers & jalapeno
£10.80
Mexicano 16" XX-Large
Spicy beef, onion, peppers & jalapeno
£13.10
Sicilian 09" Medium
Mexican chicken, pepperoni, spicy beef & jalapeno
£6.20
Sicilian 12" Large
Mexican chicken, pepperoni, spicy beef & jalapeno
£8.70
Sicilian 14" X-Large
Mexican chicken, pepperoni, spicy beef & jalapeno
£10.80
Sicilian 16" XX-Large
Mexican chicken, pepperoni, spicy beef & jalapeno
£13.10
Meaty Lovers 09" Medium
Pepperoni, salami, Mexican chicken & ham
£6.20
Meaty Lovers 12" Large
Pepperoni, salami, Mexican chicken & ham
£8.70
Meaty Lovers 14" X-Large
Pepperoni, salami, Mexican chicken & ham
£10.80
Meaty Lovers 16" XX-Large
Pepperoni, salami, Mexican chicken & ham
£13.10
Carribean 09" Medium
Chicken, pineapple, mushroom & sweetcorn
£6.20
Carribean 12" Large
Chicken, pineapple, mushroom & sweetcorn
£8.70
Carribean 14" X-Large
Chicken, pineapple, mushroom & sweetcorn
£10.80
Carribean 16" XX-Large
Chicken, pineapple, mushroom & sweetcorn
£13.10
Vegetariana 09" Medium
Mushroom, peppers, onions, pineapple & sweetcorn
£6.20
Vegetariana 12" Large
Mushroom, peppers, onions, pineapple & sweetcorn
£8.70
Vegetariana 14" X-Large
Mushroom, peppers, onions, pineapple & sweetcorn
£10.80
Vegetariana 16" XX-Large
Mushroom, peppers, onions, pineapple & sweetcorn
£13.10
Riccardo's Special 09" Medium
Bit of everything
£7.30
Riccardo's Special 12" Large
Bit of everything
£9.90
Riccardo's Special 14" X-Large
Bit of everything
£12.40
Riccardo's Special 16" XX-Large
Bit of everything
£14.50
Donner Calzone - 12" Large
Donner meat
£7.80
Hawaiian Calzone - 12" Large
Ham & pineapple
£7.80
Diavola Calzone - 12" Large
Pepperoni & mushrooms
£7.80
Marinara Calzone - 12" Large
Chicken & sweetcorn
£7.80
BBQ Calzone - 12" Large
BBQ sauce, chicken & pepperoni
£7.80
Meat Feast Calzone - 12" Large
Chicken, pepperoni, ham, salami & beef
£8.80
Garlic Bread 16" XX-Large
£6.30
Garlic Bread with Cheese 09" Medium
£4.30
Garlic Bread with Cheese 12" Large
£6.20
Garlic Bread with Cheese 14" X-Large
£7.30
Garlic Bread with Cheese 16" XX-Large
£9.40
Garlic Bread with Cheese & Mushrooms 09" Medium
£4.70
Garlic Bread with Cheese & Mushrooms 12" Large
£6.80
Garlic Bread with Cheese & Mushrooms 14" X-Large
£7.90
Garlic Bread with Cheese & Mushrooms 16" XX-Large
£9.90
Garlic Bread with Cheese & Tomato 09" Medium
£4.70
Garlic Bread with Cheese & Tomato 12" Large
£6.80
Garlic Bread with Cheese & Tomato 14" X-Large
£7.90
Garlic Bread with Cheese & Tomato 16" XX-Large
£9.90
Garlic Bread with Cheese & Pepperoni 09" Medium
£5.00
Garlic Bread with Cheese & Pepperoni 12" Large
£7.00
Garlic Bread with Cheese & Pepperoni 14" X-Large
£8.00
Garlic Bread with Cheese & Pepperoni 16" XX-Large
£10.10
Garlic Bread with Cheese & Donner Meat 09" Medium
£5.30
Garlic Bread with Cheese & Donner Meat 12" Large
£7.40
Garlic Bread with Cheese & Donner Meat 14" X-Large
£8.50
Garlic Bread with Cheese & Donner Meat 16" XX-Large
£11.00
Donner Meat in a Bun - Small
£3.80
Donner Meat & Chips Small
£5.00
Donner Meat & Chips Large
£6.40
Donner Kebab Small
Donner meat
£5.00
Donner Kebab Large
Donner meat
£6.60
Chicken Kebab Small
Marinated chicken breast pieces
£5.40
Chicken Kebab Large
Marinated chicken breast pieces
£8.20
Lamb Kebab Small
Lamb pieces marinated with special herbs
£5.50
Lamb Kebab Large
Lamb pieces marinated with special herbs
£8.30
Kofta Kebab Small
Minced lamb prepared on skewer
£5.20
Kofta Kebab Large
Minced lamb prepared on skewer
£7.50
Mixed Kebab - Large
Any 2 small mixed kebabs in naan
£8.50
Chicken, Lamb & Donner Mixed Kebab - Large
£10.50
Riccardo's Special Kebab - Large
Donner, lamb, chicken & kofta
£12.50
English Burger Small
With ketchup & salad
£3.80
English Burger Large
With ketchup & salad
£4.90
American Burger Small
With relish & salad
£3.80
American Burger Large
With relish & salad
£4.90
Italian Garlic Burger Small
With sauce & salad
£3.80
Italian Garlic Burger Large
With sauce & salad
£4.90
Mexicano Burger Small
With chilli sauce & salad
£3.80
Mexicano Burger Large
With chilli sauce & salad
£4.90
French Burger Small
With mayo & salad
£3.80
French Burger Large
With mayo & salad
£4.90
Hawaiian Burger Small
With pineapple, thousand island & salad
£3.80
Hawaiian Burger Large
With pineapple, thousand island & salad
£4.90
Greek Burger Small
BBQ sauce
£3.80
Greek Burger Large
BBQ sauce
£4.90
Special Burger - Large
2 Cheeseburgers, 2 onion rings & fried onions
£5.80
King Kong Burger - Large
3 Cheeseburgers, mushrooms & fried onions
£6.50
Mega Burger - Large
Beef burger, chicken burger, donner, topped with double cheese
£6.50
Chicken with Chips 01 Piece
£2.80
Chicken with Chips 02 Pieces
£4.80
Chicken with Chips 03 Pieces
£6.10
Chicken with Chips 04 Pieces
£7.60
4 Chicken Strips with Chips
£6.00
Family Bucket
4 pieces of fried chicken, 6 chicken strips, 2 chips & bottle pepsi
£13.70
Chicken Nuggets, Chips & Salad
£3.90
Garlic Mushroom, Chicken & Cheese
£4.90
Scampi (8), Chips & Salad
£3.90
4 Meat Samosas with Salad
£4.00
Tub of Sauce Mint Yoghurt
£0.60
Tub of Sauce Sweet Chilli
£0.60
Haagen-Dazs (Salted Caramel) - 460ml
£5.80
Haagen-Dazs (Strawberry Cheesecake) - 460ml
£5.80
Haagen-Dazs (Vanilla) - 460ml
£5.80
Slice of New York Cheesecake
£2.20
Kids Meal 1
7" Margherita pizza, 4 chicken nuggets, kids fries, 2 carton drinks & 2 lollipops
£7.00
Kids Meal 2
Small donner meat box, kids fries, carton drink & lollipop
£4.80
Kids Meal 3
4 Chicken nuggets, kids fries, carton drink & lollipop
£3.50
Contact Us
Find Us
99-101 Squires Gate Lane, Blackpool, FY41QW
We deliver to
FY1, FY4, FY8